Benjamin's music has always been remarkably cinamatic.
From the sublimely ambient to the lushly orchestrated and all points between.
Filmakers interested in original scores for their films are encouraged to contact Ben,
he is always looking for new film projects and even if your project has budget issues,
often a spec arrangement can be arrived at.
Don't hesitate to inquire.
Your film deserves a great score!
FILM WORK

Benjamin New's original score written for "Paperboys" won the prestiegous Indie in 2009.
The Indie Fest recognizes film professionals who demonstrate exceptional achievement in craft and creativity, and those who produce standout entertainment or contribute to profound social change. Entries are judged by highly qualified professionals in the film industry. Information about the Indie Fest and a list of recent winners can be found at www.theindiefest.com. In winning an Indie, Aware Productions who produced the film, joins the ranks of other high-profile winners of this internationally respected award.
Thomas Baker, Ph.D., Chairman of the Indie Fest, remarked, "The Indie is not an easy award to win. Entries are received from around the world. The Indie helps set the standard for craft and creativity. The judges were exceptionally pleased with the exceptionally high quality of entries. The goal of The Indie is to help winners achieve the recognition they deserve."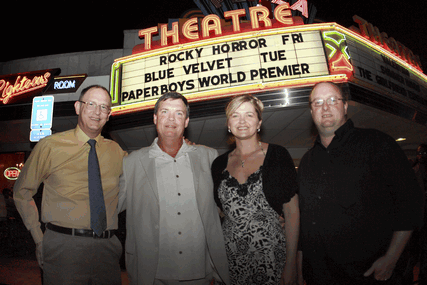 Photo from the Atlanta premiere of Paperboys at the Plaza Theatre.
Left to right are the producers, Bryan E Hall , Julius Howard Bach, Emily Bach, Kevin Christopher
Director Bryan E. Hall has lot's more on his Website.

Listen to music from the award winning soundtrack:
Monolithic Hellride From Paperboys Soundtrack

Full Cast And Crew at IMDb

NEWS UPDATE-Paper Boys Wins 4 more distinguished film awards!
"Paper Boys" has won 4 Accolades, considered one of the top awards for independent films!
The film took top honors for:

1-Feature Film
2-Editing-Kevin Christopher
3-Overall Post-Production - AGI Studios
4-Supporting Actor - Robert Hatch
Read The Interview With Director Bryan E. Hall
(This is on the Accolades website)




Listen To Selections From Other Film Scores On The Music Player Located In The "ABOUT" tab.